Nominacije 2023.
Svi nominirani projekti za ostvarenja u 2023. (Izborna godina traje od 01.11.2022. do 15.10.2023.)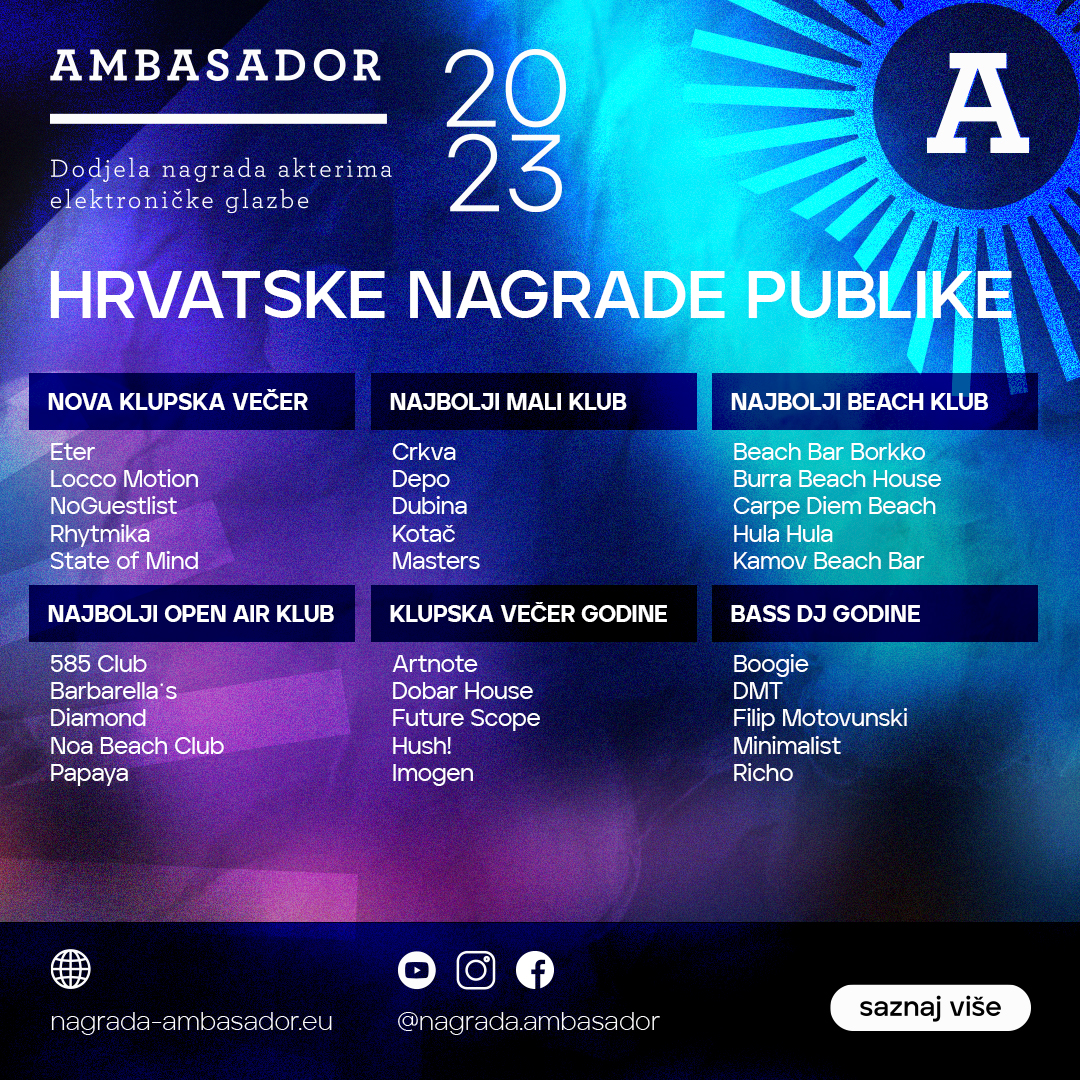 Svoje favorite ljubitelji elektroničke glazbe mogu podržati glasanjem na mrežnim stranicama nagrade www.nagrada-ambasador.eu do 12. studenog u ponoć, dok će za nagrade struke već ustaljenim tajnim glasanjem glasove dati stručni žiri.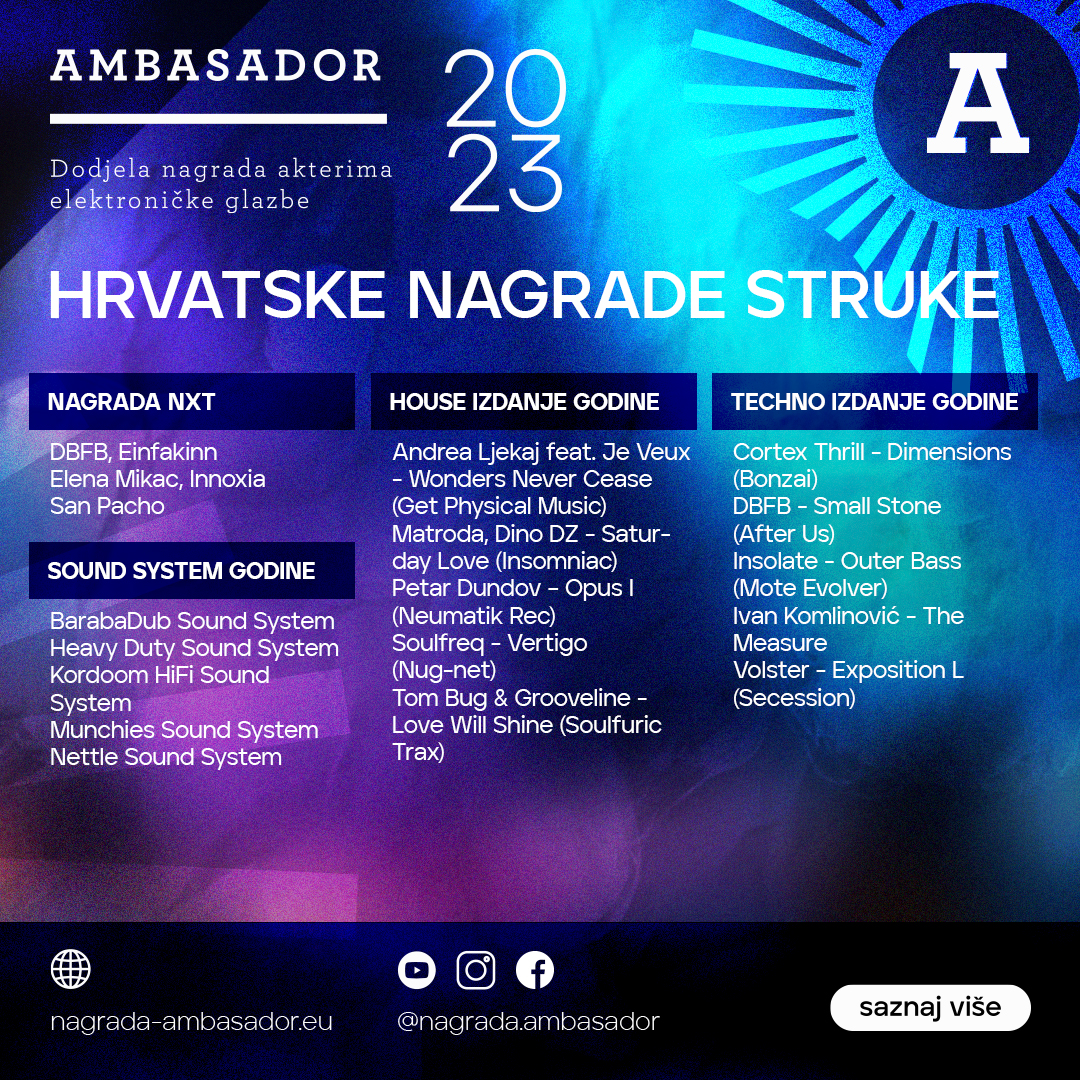 HRVATSKE NAGRADE PUBLIKE
NOVA KLUPSKA VEČER
Eter
Locco Motion
NoGuestlist
Rhytmika
State of Mind
RADIJSKA EMISIJA GODINE
Bubanj&Bass (Radio: 808, Roža, Kampus)
Elektrochat (Radio Korčula)
Feel Good Club (Otvoreni Radio)
Radioteka (HR 2. program)
Traktor (Radio Rojc)
NAJBOLJI MALI KLUB
Crkva
Depo
Dubina
Kotač
Masters
NAJBOLJI INDOOR KLUB
Boogaloo
Central
Peti Kupe
Revelin
Steel
NAJBOLJI OPEN AIR KLUB
585 Club
Barbarella˙s
Diamond
Noa Beach Club
Papaya
NAJBOLJI BEACH KLUB
Beach Bar Borkko
Burra Beach House
Carpe Diem Beach
Hula Hula
Kamov Beach Bar
KLUPSKA VEČER GODINE
Artnote
Dobar House
Future Scope
Hush!
Imogen
NAJBOLJI KLUPSKI PARTY
Amelie Lens (Boogaloo)
DnB United (Aquarius)
Dub FX (Močvara)
Soichi Terada (Attack)
We Love Sound - A New Dawn (Hala)
EVENT GODINE
Bonobo (Tvrđava sv. Mihovila, ŠI)
The Prodigy (Stella Maris Resort, UM)
Depeche Mode (Arena, ZG)
Florence + The Machine (Arena, PU)
Hot Since 82 (TC Maksimir, ZG)
NAJBOLJI FESTIVAL HRVATSKOG PROMOTORA 
Blast fest
Escape The City
Forestland
Future Scope festival
Seasplash festival
KOLEKTIV GODINE
Adriatic Social Club
Greenlight
Rave or die
Red Riding Hood
Volta
BASS DJ GODINE
Boogie
DMT
Filip Motovunski
Minimalist
Richo
DUB & REGGAE PROJEKT GODINE
Dr. Obi feat. Anja G & Roo T & Sistah Tena
Dubar Sound
Dubble
Lasmo meets Damien Prophet
One Dread
DJ GODINE
DJ Jock b2b Shipe
DJ Ogi
Felver
Insolate
Klaada
Maja Pa
Marina Karamarko
Matroda
Petar Dundov
Yakka
NAGRADA ZA POSEBAN DOPRINOS SCENI
Ecstatic Dance Croatia by Indra
Mrtva Egzotika
Petar Dundov & TonHalle Orchester
Udruga Koturaljke
Udruga Mandala (Trk u šumu)
HRVATSKE NAGRADE STRUKE 
NAGRADA NXT
DBFB
Einfakinn
Elena Mikac
Innoxia
San Pacho
DUB & REGGAE IZDANJE GODINE
Anja G meets Soulsteppa - Spiritual Warrior (Oto Rec)
Brain Holidays - Vajbaj sa mnom (Dallas)
Dubar Sound - Hartera (Woodland Rec)
Homegrown Sound pres. Murray Man - Walk & Talk (Homegrown Rec.)
One Dread - Mr. Nicey Nice (PDV Rec)
HOUSE IZDANJE GODINE
Andrea Ljekaj feat. Je Veux - Wonders Never Cease (Get Physical Music)
Matroda, Dino DZ - Saturday Love (Insomniac)
Petar Dundov – Opus I (Neumatik Rec)
Soulfreq - Vertigo (Nug-net)
Tom Bug & Grooveline - Love Will Shine (Soulfuric Trax)
TECHNO IZDANJE GODINE
Cortex Thrill - Dimensions (Bonzai)
DBFB - Small Stone (After Us)
Insolate - Outer Bass (Mote Evolver)
Ivan Komlinović - The Measure
Volster - Exposition L (Secession)
NAJBOLJA ALTERNATIVNA VOKALNA IZVEDBA
Aklea Neon (Dva prsta & Jadnaja)
Anna Moor & Reper iz sobe (Tajland)
Je Veux (Andrea Ljekaj - Wonders Never Cease)
Millah (Boombardub - Message inna bottle)
Sun U (Disaster)
ALBUM / KOMPILACIJA GODINE
Ilija Rudman - Pulsar Diaries (International Feel)
Mellow Men - MIFY (DeepWit Recordings)
Petar Dundov - In Expectation of Dawn (Neumatik)
Pocket Palma - III (Aquarius Rec)
V.A. Thanq069: Osam (Awesome) Thanq Music
SOUND SYSTEM GODINE
BarabaDub Sound System
Heavy Duty Sound System
Kordoom HiFi Sound System
Munchies Sound System
Nettle Sound System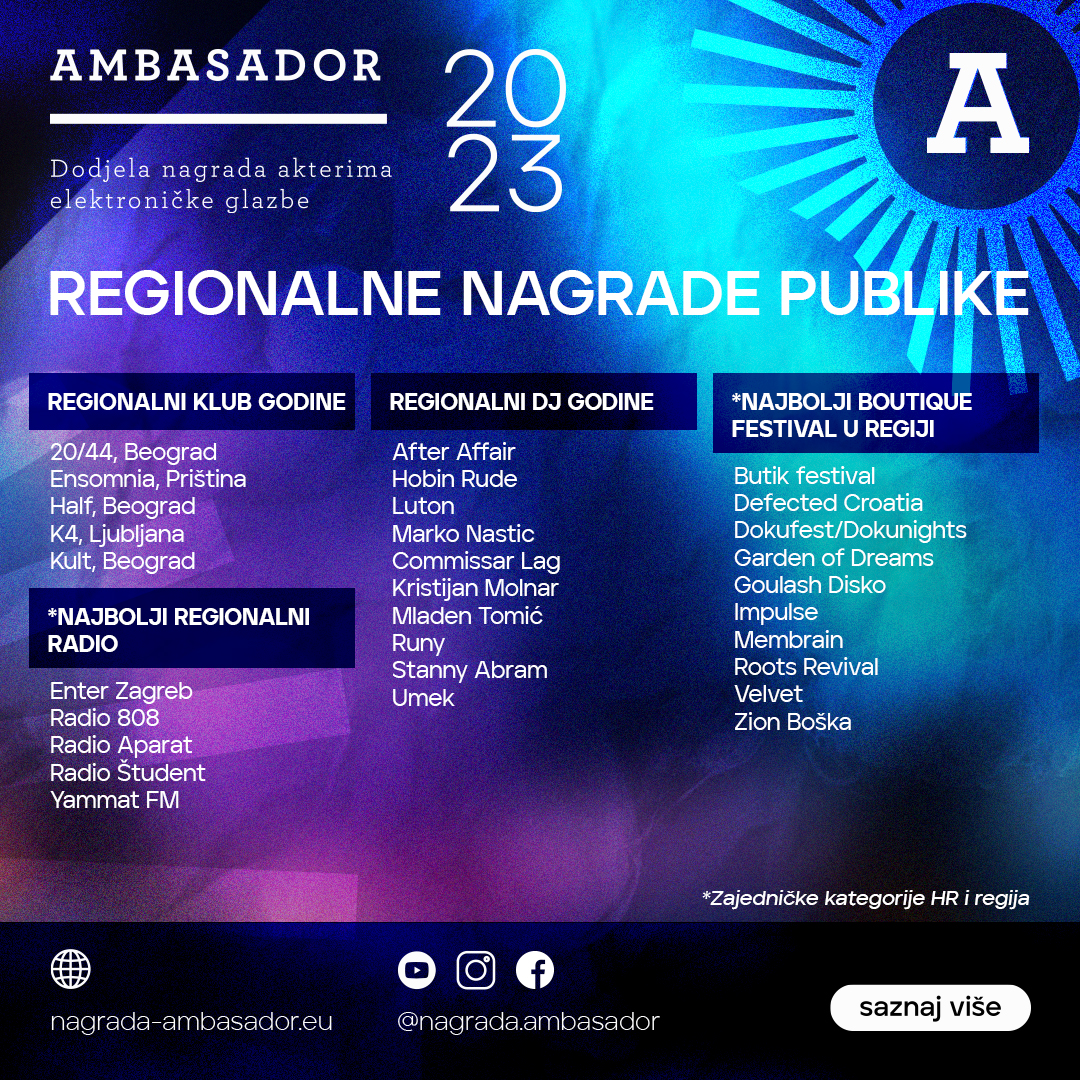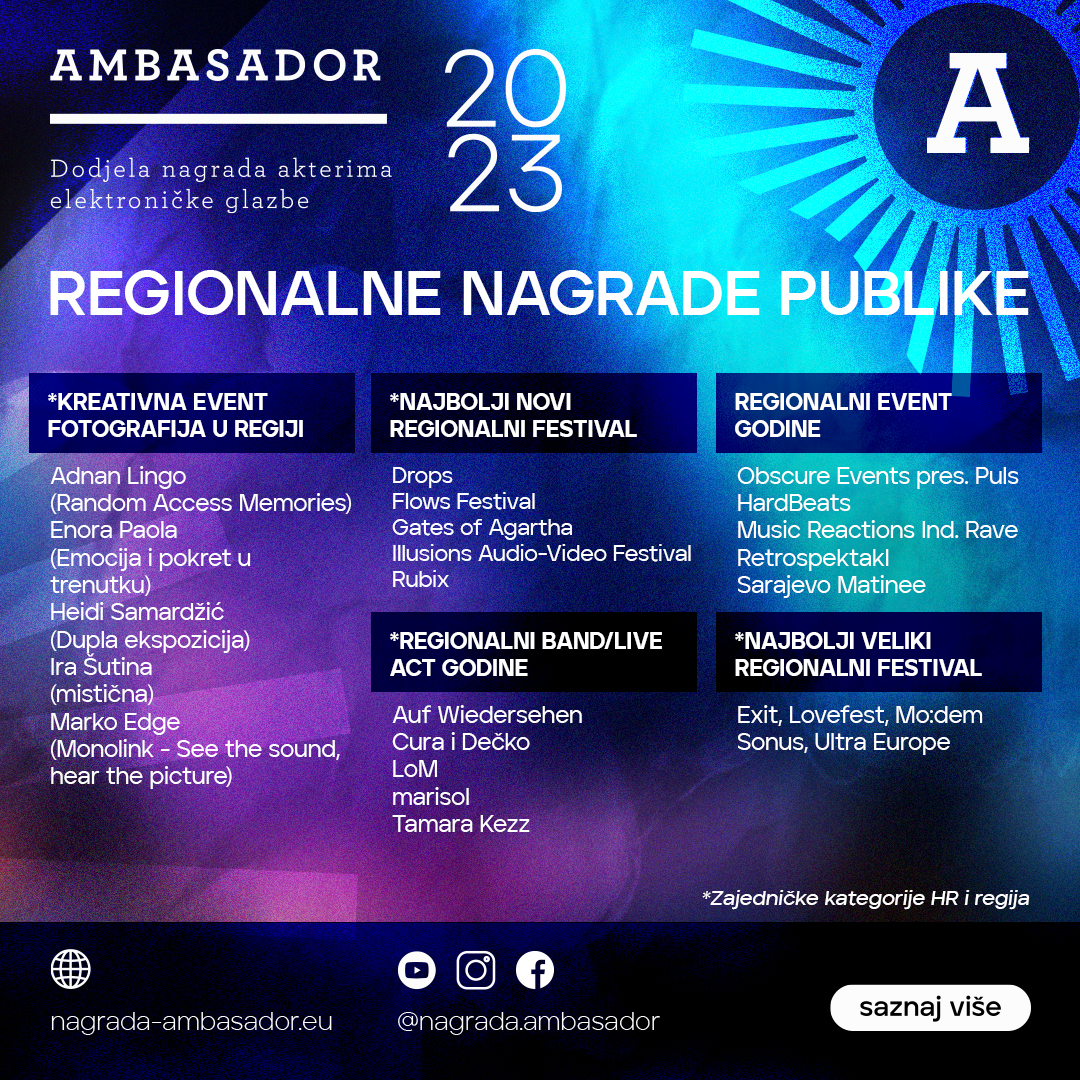 REGIONALNE NAGRADE PUBLIKE
REGIONALNI KLUB GODINE
20/44, Beograd
Ensomnia, Priština
Half, Beograd
K4, Ljubljana
Kult, Beograd
REGIONALNI EVENT GODINE
C2D x Obscure Events pres. Puls
HardBeats
Music Reactions Indoor Rave
Retrospektakl
Sarajevo Matinee
REGIONALNI DJ GODINE
After Affair
Commissar Lag
Hobin Rude
Kristijan Molnar
Luton
Marko Nastic
Mladen Tomić
Runy
Stanny Abram
Umek
*REGIONALNI BAND/LIVE ACT GODINE
Auf Wiedersehen
Cura i Dečko
LoM
marisol
Tamara Kezz
*NAJBOLJI REGIONALNI RADIO
Enter Zagreb
Radio 808
Radio Aparat
Radio Študent
Yammat FM
*KREATIVNA EVENT FOTOGRAFIJA U REGIJI
Adnan Lingo (Random Access Memories)
Enora Paola (Emocija i pokret u trenutku)
Heidi Samardžić (Dupla ekspozicija)
Ira Šutina (mistična)
Marko Edge (Monolink - See the sound, hear the picture)

Nominirane radove u ovoj kategoriji pogledajte na ovoj poveznici.
*NAJBOLJI NOVI REGIONALNI FESTIVAL
Drops
Flows Festival
Gates of Agartha
Illusions Audio-Video Festival
Rubix
*NAJBOLJI BOUTIQUE FESTIVAL U REGIJI
Butik festival
Defected Croatia
Dokufest/Dokunights
Garden of Dreams
Goulash Disko
Impulse
Membrain
Roots Revival
Velvet
Zion Boška
*NAJBOLJI VELIKI REGIONALNI FESTIVAL
Exit
Lovefest
Mo:dem
Sonus
Ultra Europe
REGIONALNE NAGRADE STRUKE
*AMBIJENTALNO IZDANJE GODINE U REGIJI
Dalton Trance Teleport - Modul Sub 2 (Blue Tunes Chillout)
Inner Child - Remembering the Future
Looney Grandpas - Altered State (Mindspring)
Symann Ulix - Seventh Stream
Taino – Dilema
*BASS IZDANJE GODINE U REGIJI
Fokus - Praise His Name
Egoless - Empire of Dirth (Deep Medi Musik)
Metanoia – Need this ft. Marge ( Viper Recordings )
Minimalist – Level Up (Getcha Records)
Sven Nalis – Nevera (Atje)
DUB & REGGAE IZDANJE GODINE U REGIJI
Del Arno Band feat. Tadiman - Samo dalje
Fokus - Jimi's Dub
Frenkie - Dunya
Haris Pilton meets Joseph Cotton - Mr Classic
Sassja - Ksnmsry
*REGIONALNO GOA/PSY TRANCE IZDANJE
Goasia - Dangerous Master (Spacedock Records)
Innoxia - Black Magic Blossom (Rudra Mantra Rec)
Kala - Mind Blown (Forestdelic Records)
Lunar Dawn - Power of Earth
Talpa - Radius Lucis (TesseracTstudio)
NAJBOLJE REGIONALNO HOUSE IZDANJE
A.P.(84Bit) - Close Your Eyes (84Bit)
Coeus - Homecoming (Zamna)
Hobin Rude - The Only Thing That Matters (Mango Alley)
Makito, T.Markakis - Moments (Zero Eleven Rec Co.)
Stanny Abram - Time to Jack (Dobar House)
NAJBOLJE REGIONALNO TECHNO IZDANJE
Ana Rs- Abstract Mind (Symbolism)
Acor - Eat Sleep Rave Repeat (Exhale)
Forest People - Impact Play (Trapez)
Lag & Đomla - Novosađanka (Projekti Sa Specijalnim Potrebama)
Umek, Matteo Vitanza - Trouble So Hard (1605)
*REGIONALNI REMIKS GODINE
Acor Rmx (Drzneday, Rectoor feat. Ninna M - Vodi Me Na Ples)
Billain Rmx (Noisia - Stigma)
E-Base Rmx (Šo!Mazgoon - Na Palagruzu)
Petar Dundov Rmx (Gaston Ponte - Dark Side)
Stanny Abram Rmx (Art Was Art - Orwellian Nightmares)
NAJBOLJI REGIONALNI ALBUM / KOMPILACIJA GODINE
Bella Technika - Solid State (PDV)
DNB Konferenca - DNB Kompilacija 2023
Euphorics - Eternity (Soul Deep Rec)
Evolucija Zvuka - Human Hands and Analog Machines (Aceton)
IDQ - Borderline (Circus Rec)
*REGIONALNA NEZAVISNA IZDAVAČKA KUĆA GODINE
Cruise Music
Dobar House
Innocent Music
Minimalism Records
PDV
*ART PRODUKCIJA GODINE U REGIJI
Dorotea Budić (sedampet)
Greenlight Collective
Illusions
Kushtrim Juniku (KUJU Studio)
Monika Milas
*NAJBOLJE LIKOVNO OBLIKOVANJE U REGIJI
Andreas Lenac (Greenlight)
Domagoj Jakić (LMF festival)
Hana Matić (Dobar House)
Ivan Ivaniš (Crkva)
Patrik Bartoš (Kongres kolektiv)

Nominirane radove možete vidjeti na ovoj poveznici.
*Zajedničke kategorije HR i regija