Objavljene su nominacije za 6. nagradu Ambasador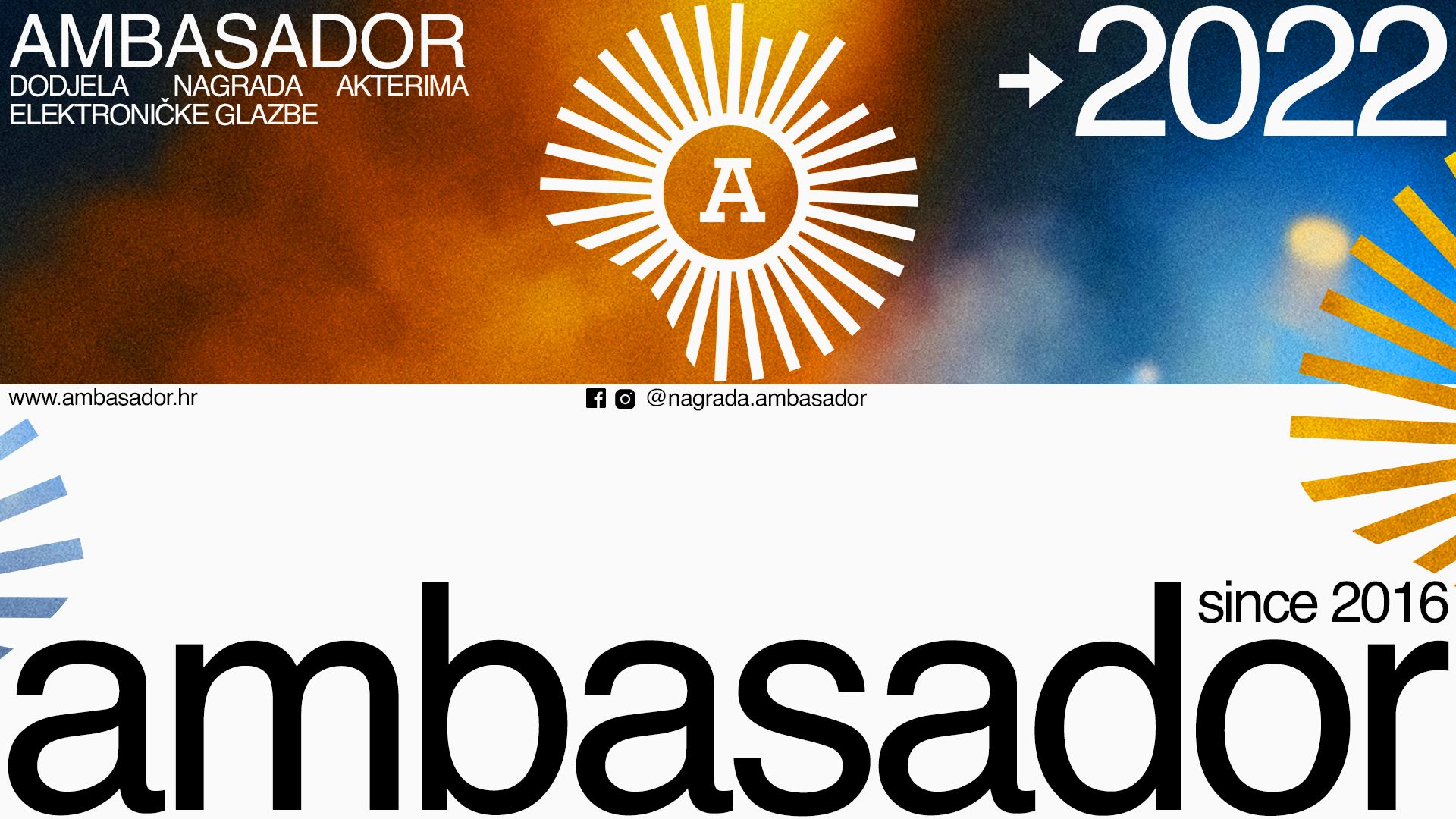 Objavom nominacija započinje glasanje za Ambasador 2022. u nagradama publike i struke
Od danas do 29. studenog u 23.59h publika i struka glasaju u ukupno 35 kategorija za šestu nagradu Ambasador. Za nagrade publike može se glasati klikom ovdje. Dodjeljuju se priznanja za ostvarenja na polju elektroničke glazbe u Hrvatskoj i regiji 2022.

Nominacije su nastale na temelju predlaganja kandidata Stručnog žirija iz Hrvatske i regiji u prvom ciklusu projekta koji je održan od 25.10. do 06.11.

Pred nama je šesto izdanje Ambasadora elektroničke glazbe, krovne manifestacije koja okuplja čitavu industriju na jednom mjestu. Objavljen je pravilnik nagrade, kriteriji i djelomičan program dodjele koja se održava 8.12. u Boogaloo. Ove godine sprema se dvodnevni program na više lokacija koji uključuje panele i partye.

Uz ogroman interes javnosti za projekt koji smo pokrenuli 2016., Ambasador ima novi vizualni identitet koji je djelo Grgura Nikice Vulete, DJa, promotora, novinara i studenta Grafičkog dizajna u Zagrebu, poznatog i kao DJ Vazdaisti, te osnivač projekta Princip.ba.




POZIV VOLONTERIMA!

Ovom prilikom organizatori pozivaju sve zainteresirane studente novinarstva, kulturologije, novih medija, digitalnog marketinga, event managementa i druge kreativce na sceni da se jave na Ova e-mail adresa je zaštićena od spambota. Potrebno je omogućiti JavaScript da je vidite. sa svojim životopisom i iskustvom te pomognu u realizaciji 6. izdanja do sada najjačeg Ambasadora.

U ugodnoj radnoj atmosferi naučit ćete štošta od profesionalaca i biti dio projekta koji služi kao platforma za povezivanje ekipe na sceni. Skupit ćete vrijedno iskustvo kao i mnogi do sada, te postati dio ove kulturne i kreativne industrije.




Pošto projekt poprima sve jači regionalni karakter ove godine u Boogaloo-u će tijekom glazbenog programa nastupati hrvatski kao i izvođači iz regije. Više o samom glazbenom programu, Simpoziju Ambasadora i drugim aktivnostima objavljivat će se periodično putem medija, weba i društvenih mreža projekta.

Očekuje se dolazak preko 250 posjetitelja iz industrije elektroničke glazbe Hrvatske i regije koji se jedva čekaju okupiti i sklopiti nove suradnje tijekom manifestacije, posebno zato jer smo na prošlom izdanju u Opatiji ostali zakinuti za dolazak regionalaca zbog epidemioloških mjera. Partner projekta je HDS-ZAMP.

NOMINIRANI 2022.
HRVATSKE NAGRADE PUBLIKE
RADIJSKA EMISIJA GODINE
Contrast Radio (Yammat FM)
Dobar House (Radio 808)
Fader (Radio Roža)
Sync in (Radio Labin)
Worries in The Dance (Radio Roža)
NAJBOLJI MALI KLUB
Crkva, Rijeka
Depo, Zagreb
Dva Osam, Zagreb
Exit Club, Osijek
Kamov Beach Bar, Rijeka
NAJBOLJI VELIKI KLUB
Boogaloo (Zagreb)
Culture Club Revelin (Dubrovnik)
Diamond Club, Malinska (Otok Krk)
Peti Kupe (Zagreb)
Pogon Kulture (Rijeka)
NAJBOLJI OUTDOOR PARTY
BSH Cave Romane
Forest Castle
Project Vojarna
Summer 4 Revolution
Šoderica Open Air
NAJBOLJI KLUPSKI PARTY
Dobar House
Future Scope
Roots
The Best Reunion festival
We Love Sound
NAJBOLJI NOVI FESTIVAL
3000Grad am Meer
Future Scope festival
LMF festival
Pula Music Week
Zion Boška festival
BOUTIQUE FESTIVAL GODINE
BeatPoint festival
Dimensions festival
Forestland
Impulse festival
Love International festival
NAJBOLJI FESTIVAL DOMAĆEG PROMOTORA 
Mo:Dem festival
Seasplash festival
Velvet festival
Zadar Sunset festival
Zagreb Calling festival
PLESNA DESTINACIJA GODINE
Martinska
Otok Krk
Plaža Zrće
Pula
Tisno
AMBASADOR HRVATSKE U SVIJETU
Dalton Trance Teleport
DJ Jock
Egoless
Matroda
Petar Dundov
HRVATSKE NAGRADE STRUKE 
AMBIJENTALNO IZDANJE GODINE
Dalton Trance Teleport - Desert Hope (Blue Tunes Chillout)
Klaada ft. Hrushvice - Echoes of the Prescient Spirit
Klaada - Incantations from the Depths (Mindspring Music)
Looney Grandpas - Slavic Soulstice (Mindspring Music)
Too Faar - Pongal (Geenger Rec.)
BASS IZDANJE GODINE
207 - Koto (White Peach)
Egoless - T0 H3al (Immaimma)
Filip Motovunski - Blood Overflow (Bad Taste Recordings)
Minimalist – A'mahero (Banana Bass Music)
Yakov - Up In The Sky (Bad Taste Recordings)
DUB & REGGAE IZDANJE GODINE
Digitron Sound meets Haris Pilton - Not Granted Riddim (Positive Reality Records)
Dr.Obi & Anja G - Resilienz Dub (Culture Dub Records)
Dr.Obi & Anja G - Moonlight (AmpliFyah Music)
One Dread - Mighty Lioness (PDV Records)
ST!llness - Kocka je okrugla (Mudri Brk)
GOY/PSY TRANCE IZDANJE GODINE
Acies Noctis - Derivative Function
Lunar Dawn - Loose me
M-Run - Emotional Encoder (Matsuri Digital)
Omnivox - Design your reality (Parallel Records 303)
Plasma Corp. - Pneuma (Veleno Music)
HOUSE IZDANJE GODINE
Bruns Lay x Arian - Lutaš (Dobar House)
Jazzy Rossco - Get Down (Zero Eleven)
Matroda - Come with Me (Terminal Underground)
Tom Bug - Moment (Dobar House)
Vedri Tunes - Rita's Theme (Delta Swamp Music)
TECHNO IZDANJE GODINE
DJ Jock - Urania (Unrilis)
DJ Ogi - Komin (Klinik Room)
Petar Dundov - Terca (Just This)
Teo Harouda - Riot Boy (Aceton Music)
Volster - Exposition A
REMIKS GODINE
Crazy P - Night Rain (Ilija Rudman rmx)
Hemissi - Nuance (Insolate rmx)
Banana Zvuk - Legaliziraj (Marcus G RMX)
Pole Folder & CP - Apollo Vibes (Petar Dundov rmx)
Cortex Thrill - Milky Way (Yakka rmx)
NAJBOLJA ALTERNATIVNA VOKALNA IZVEDBA
Dr.Obi & Anja G - Moonlight (AmpliFyah Music)
Kerri Chandler feat. Dora Dora - Who Knows (Kaoz Theory)
Klaada ft. Hrushvice - Echoes of the Prescient Spirit
One Dread - Mighty Lioness (PDV Records)
Pocket Palma - Osjećaj (Aquarius Rec)
IZVOĐAČ GODINE
Dancelectric
DJ Jock
Filip Motovunski
Fikcio Monger
F.O.R.M.
Insolate
Ivan Mastermix
Matroda
Petar Dundov
Yakka
NAGRADA ZA POSEBAN DOPRINOS SCENI
Croatia Beach Music Conference (Novalja, otok Pag)
Inner Child (Split)
Klub Kulture (Križevci)
LMF festival Episode 01 (Las Vegas, SAD)
Tuesdays at Revelin (Dubrovnik)
REGIONALNE NAGRADE PUBLIKE
REGIONALNA RADIJSKA EMISIJA GODINE
Arcadia Radio Show (Radio Aparat)
Kosmičnjak (BHRadio1)
Senzorama (Radio Študent)
Space Diversity (Amok Radio)
Širom zatvorenih očiju (Radio Beograd 202)
NAGRADA ZA FOTOGRAFA GODINE IZ REGIJE
Aldin Lingo
Benny Take a Moment
Dino Ninković aka Denine
Marko Edge
Shootinglikepablo
REGIONALNI MEDIJ GODINE
BgdGrotto.com
Enter Zagreb
Mixmagadria.com
Onlyclubbing.com
Terapija.mk
REGIONALNI KLUB GODINE
Cvetličarna, Ljubljana
Drugstore, Beograd
Minus Eden, Skopje
Trezor, Sarajevo
Tunnel, Novi Sad
REGIONALNI EVENT GODINE
Apgrade w/ Sven Väth & Solomun, Luka Beograd
Cercle w/ Jamie Jones, vodopadi Plive (Jajce)
Etom Records / Cage Rage Vol. 3, K9Station (Novi Sad)
Klabika w/ Solomun, Vječna Vatra (Sarajevo)
Possession w/ I Hate Models, L56 (Ljubljana)
NAJBOLJI MALI FESTIVAL U REGIJI
Butik fest (Tolmin, Slovenija)
Fresh Wave festival (Banja Luka, BiH)
Garden of Dreams (Sarajevo, BiH)
No Sleep festival (Beograd, Srbija)
Waveul (Ulcinj, Crna Gora)
NAJBOLJI VELIKI REGIONALNI FESTIVAL
Exit festival (Novi Sad, Srbija)
Lovefest (Vrnjačka Banja, Srbija)
Sea Dance festival (Budva, Crna Gora)
Sonus festival (Novalja, otok Pag, Hrvatska)
Ultra Europe (Split, Hrvatska)
REGIONALNE NAGRADE STRUKE
NAGRADA ZA NAJPERSPEKTIVNIJEG IZVOĐAČA U REGIJI
Adnoir
El Maar
Groove Masters
Luka Čikić
Muhi
REGIONALNI SOUND SYSTEM GODINE
Boris sound system
Munchies sound system
Nettle sound system
Roots in session
Vibration Addict sound system
REGIONALNO IZDANJE GODINE 
Coeus - Superia (Oddity)
Lag & X Coast - XL Traxx (Rekids)
Mene, Joe Vanditti - Antava (Muse)
RanchaTek, Phased - Cosmic Dream (I am Different)
Salvatore Ganacci - Take me to America (MDLBEAST Recordings)
REGIONALNI REMIKS GODINE
Hoten - Last Goodbye (Andrew Meller Remix)
BOg & 19:26 Feat. Diana Miro - Underwater (Coeus Remix)
Javier Portilla - Home (Filip Fisher Remix)
Antela - Astral Thoughts (Lèrr Remix)
Matt Darey presents Lost Tribe - Gamemaster (Space Motion Remix)
REGIONALNI ALBUM / KOMPILACIJA GODINE
Aney F. - 10 Years of Innocent Music
Billain - Lands Unbreached
Ichisan - Fantasound
Klaada - Coniunctio Oppositorum
Lunar Dawn - The Purge
REGIONALNA NEZAVISNA IZDAVAČKA KUĆA GODINE
Dobar House
Headroom Rec.
Night Light Rec.
Secession
TMM Records
ART PRODUKCIJA GODINE U REGIJI
Dancing Warrios (Who's Playing: AREA53 Edition)
Gana Elez (We Love Sound)
Lunar Deco (Forestdelic Night)
Monika Milas (Dissonance)
Sanela Bureš (Rejvnesansa)
REGIONALNI IZVOĐAČ GODINE
After Affair
Andrew Meller
AudioStorm
Brina Knauss
Coeus
Herzel
Marko Nastic
Mike Vale
Oleka
Tijana T